[VIEWED 5813 TIMES]

SAVE!

for ease of future access.
Posted on 07-15-11 12:16 AM
[Snapshot: 152]
Reply
[Subscribe]
Login in to Rate this Post: 0
?
it is true that Buddha was born in Lumbini which is current day Nepal, and it is also true that Siddharha Gautama achieved NIrvana in present day India...the reason for all the hate concerning Buddha's birthplace which is ironic considering Buddha was a preacher of peace is because of all the false information around us telling us that Buddha was born in India, and the majority of this information comes from the Indian media...which really hurts Nepalese sentiments.!..but that doesnt mean all the hate is just because of that, there are some people who just wanna hate..and especially hate India!..!so there you go....and the page ure talking about, I ignored it too but you can look at the page as foolish or you can consider it a messege saying thats enough...no more ignorence!!
Posted on 07-15-11 1:02 PM
[Snapshot: 406]
Reply
[Subscribe]
Login in to Rate this Post: 0
?
When the moving tectonic plates resulted in forming Mount Everest to be the tallest mountain, there probably was neither Nepal, China, India or Tibet. What is important here is that the Mountain is in Nepal. In the same vein, that place where Buddha was born is now a Nepal's territory.
Posted on 07-15-11 1:13 PM
[Snapshot: 406]
Reply
[Subscribe]
Login in to Rate this Post: 3
?
Liked by
Buddha was born in Nepal. Krishna was born in India. Ram was born in India. Sita was born in Nepal. Hanuman was born in India? Sugrib was born in India, Bali was born in India, Shiva was born in ?? but he resides in Mt.Kailash must be Tibetan, ....... please add more....lets try and sort out the nationality of fictional/non fictional Gods and demi-Gods and waste our time.....
Posted on 07-15-11 1:14 PM
[Snapshot: 406]
Reply
[Subscribe]
Login in to Rate this Post: 0
?
deleted!! double post
Last edited: 15-Jul-11 01:14 PM
Posted on 07-15-11 3:54 PM
[Snapshot: 499]
Reply
[Subscribe]
Login in to Rate this Post: 0
?
I respect the researchers' inference that Lumbini indeed is Siddhartha's birthplace. I am proud that it is in present-day Nepal. It is one of the most serene places to visit on earth and peace be on this planet, the Lord's message has made this place that much better.
Hold as I will this bit of history in the highest esteem as you and I can hold, and with due respect to others' belief in the same, make no mistake, it is a happenstance that the Lord was born in Lumbini. That our ancestors sacrificed life and limb to protect Lumbini and adjacent areas to keep it inside our borders is a different debate.
Just because invoking association to his birthplace accords us some jingoistic pride and camaraderie with the folks from the outside world is no justification why I should be proud of Buddha being born in Nepal. Or that invoking his name garners some sympathy among the foreigners, or even the association with Mount Everest for that matter, is not a dignified way of associating with Lumbini or Everest.
To be fair and square with the ethos and ethics of this moral dilemma, I invoke my association to the country of the Lord's birthplace even when I and my fellow foreigner friends read in the news that a Buddhist nun was raped in a bus by five miscreants – not just when I want to give them good impressions about my country. Yes, I hold my head in shame, but hiding my identity from being besmirched in guilt and shame doesn't do justice to bring out Lumbini at times of happiness and peace alone.
I also tell them that we have hordes of greedy politicians who are congenitally inept and lame at successfully coming to an agreement to finish of the task they set out by way of writing a new constitution in five years.
If a researcher from a far flung place says he thinks the Lord was born in a different place, I will be the first one to ask for the research evidence, before I start pelting rocks at a media house for publishing such a story, unlike a few hundred Nepalis who did just that in Kathmandu sometime in 2003/4. I do not want to forget that similar researchers were the ones to provide us with the evidence of Lumbini as Siddhartha's birthplace.
If an Indian says the Mt. Everest is in India, so be it – I am not here to argue every other stupid person's ignorance. I have better things to do. But I make sure I let him know that I have a different opinion!
Last edited: 15-Jul-11 03:56 PM
Posted on 07-16-11 1:52 AM
[Snapshot: 610]
Reply
[Subscribe]
Login in to Rate this Post: 0
?
I honestly don't care where buddha was born but two things:
A. I am not a buddhist but , even if I were one it wouldn't matter to me where he was born
B. I am bothered how india can flat out lie to the international community and that too in the country level. Yes u find some ignorant stupid ppl in every part of the world but here indian govt is lying and that is the disgusting part . They are even building a fake lumbini in india and that is just pathetic.
And that is the reason why lots of Nepalis don't want to feel helpless while a country filled of crooks go on claiming what was never theirs.rather than trying to keep mt.everest and buddha I think Nepalis are mad because -india is a a big dirty liar. That's it
Last edited: 16-Jul-11 01:54 AM
Posted on 07-16-11 11:41 AM
[Snapshot: 732]
Reply
[Subscribe]
Login in to Rate this Post: 0
?
Could it be said that:
Siddartha Gautam was born in Lumbini, present day Nepal.
He became Buddha in Gaya, present day India.
So Buddha's birthplace could be claimed as in India.
I'm just saying for the sake of saying. Please don't send me hate mail.
Posted on 07-16-11 2:08 PM
[Snapshot: 788]
Reply
[Subscribe]
Login in to Rate this Post: 0
?
R@@Dii K@@ Chora Chori Haru, ghantaa jasto k goole kura gari raako bhaneko...aba ch!ckne yesto kura ma bahas garna thalyou timaru....Mooooji haru Mahamanav Bhagwaan Budha ko janma hamro pawitra bhoomi nepal mai bhayeko thiyo....yo chahine na chahine discussion lyayera bhooTrow garna khojeko...baruyaha fokat ma falaak nu bhanda facebook , twitter ra anya social media ko madhyaam bata sahi sandesh sampreshan garna sahayeta puraau...natra hoina bhane goole hoaru ho...chupo lagera basa...tesaile let it be...the world knows the truth and so do you...My bl00dy lovely sajhaites fellas !!! :)))
-yesto gali garna man thiyena, 1st time gareko sajha ma kasam hola, tara aaja chai ris pakka uthekai ho :0 ) Jai Nepal
"There is nothing more dreadful than the habit of doubt. Doubt separates people. It is a poison that disintegrates friendships and breaks up pleasant relations. It is a thorn that irritates and hurts; it is a sword that kills." - Lord Buddha
if i have hurt someone's feeling from this post forgive me :)
"कायेन वाचा चित्तेन, पमादेन मया कतं ।।
अच्चयं खम मे भन्ते, भुरिपञ्ञो तथागत ।। "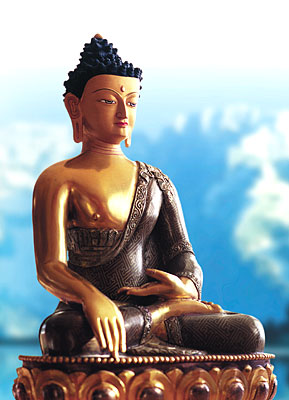 Last edited: 16-Jul-11 02:09 PM